ANC Mayerthorpe Site
This experimental plot area was established in May, 1993 near Mayerthorpe, AB to evaluate the addition of different rates of conventional and de-ink sludge on soils and plants. Initially the experiment included:
5 x 10 m plots
3 replicates
two sludges; conventional and de-ink (de-ink sludge is the by-product of pulp made from recycled paper and wood chips; conventional sludge is the by-product of pulp made from just wood chips)
six application rates (0 cm, 1 cm, 3 cm, 5 cm, 10 cm, and 5 cm/yr multiple application)
Nutrient levels equalized with fertilizer (N and P) once in 1992
Sludge incorporated by rototilling to 15 cm
Plots seed to Magna Brome Grass (60 kg/ha)
Pre and post application soil samples obtained to determine pH, carbon (TC, TOC, TIC), nitrogen, C:N, CaCO3 equiv, exchangeable cations, CEC, EC, SAR, soluble ions (HCO3, CO3, Cl, NO2, NH4, Sr, Ba, P, S, Mg, As, Si, V, Na, Mo, Se, Al, Ca, Zn, Cu, Pb, Li, Ti, Cd, Co, Ni, B, K, Mn, Fe, Cr)
Yield assessments and plant tissue analyses (DTPA extractable and total elements) on Brome Grass
Precipitation, air temperature, soil temperature, soil moisture, solar radiation, relative humidity, wind speed and wind direction continuously monitored
Soil moisture and density were monitored in plots to 270 cm with a moisture/density neutron probe
Infiltration rates were determined with double-ring infiltrometers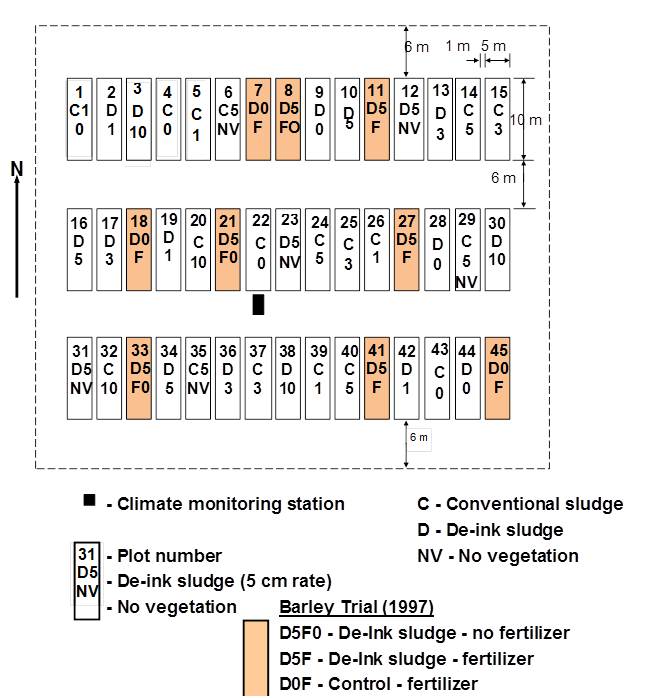 Soil carbon data for Conventional and De-ink plots were combined
Conclusions
Sludge had a positive effect on soil carbon concentrations 15 years after application indicating the longevity of carbon storage.
Soil bulk density ↓ as sludge application ↑
No significant change in soil pH from sludge addition
Small ↑ in total N and C were observed with ↑ sludge application rate
EC ↑ a maximum of 1.5 dS/m initially after application and subsequently decreased
SAR ↑ initially and decreased by 1995
Nitrate and Nitrite levels ↑ with depth in the years following application due to leaching and subsequently decreased
Slight ↑ in Cu, Ni, and Zn immediately after sludge application
Sludge application had little to no effect on soil suitability ratings based on pH, salinity, TOC, and CaCO3 equiv.
Yields were initially similar for all treatments due to fertilizer equalization
Subsequent yields increased with increasing sludge application
Beneficial sludge effect on yield diminished 3 or 4 years after application
In the first year after application brome plant tissue was showed elevated B, Ba, Ca, Cd, K, Na, P and Zn – by 1995 there were no discernable differences
Sludge addition improved physiological tissue elemental concentrations of several elements including B, Cu and Na.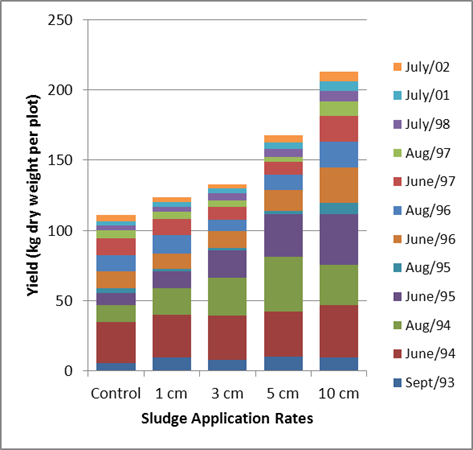 Mean Grass Yield Values (kg dry weight) for the Conventional Sludge Plots in 1993 to 2002
Mean Grass Yield Values (kg dry weight) for the De-ink Sludge Plots in 1993 to 2002