Forest Cut-Block Trial
Objective
To determine the impact of the addition of different rates of both conventional and de-ink sludge on soils and plants.
Methods
This experimental trial was established at NE 32-58-18-W5, South of Fox Creek, Alberta in June, 1993. The experiment included:
Three replicates
2 sludges- conventional and de-ink
Four application rates - 0 cm, 3 cm, 5 cm, and 10 cm
2 species - lodgepole pine and white spruce
Fertilizer was added to equalize the nutrient level in all treatments
Sludge was incorporated with a large A2 Forester Unit to a depth of 20 cm
Soil samples were obtained before and after sludge incorporation
Surface samples were obtained annually from 1994 to 2005
Deciduous species were removed from the plots in 2002/03
Plots were thinned according to normal forestry practices
Height and diameter of 2000 trees were measured annually from 1993 to 2007 and again in 2010.
Results and Conclusions
All treated plots for both species had increased heights, diameters and stem volume compared to the control treatments.
There was no significant obvious effect of scarification in the control treatment in terms of growth response.
It is predicted that at age 25, Pine tree volume in the 10 cm sludge application will nearly double the stem volume in the control treatment. Spruce trees show similar results.
Higher application volumes did not necessarily lead to equally larger tree volumes.
When measurements were obtained in 2010, it was observed that the high density of the cut-block plots (~7200 stems/ha) may begin to have an effect on tree growth and success.
Tree height and diameter age shift and growth multipliers indicate that sludge treatment has a significant effect on vegetative performance.
Area
Application Rate (t/ha)
Age Shift
Growth Multiplier

Height
Diam
Height
Diam
ANC Forest Cutblock Trial
50
8.2
7.7
1.38
1.36
100
13.1
16.1
1.61
1.70
100
14.8
10.3
1.70
1.53
Spruce stemwood volume and projection (conventional sludge)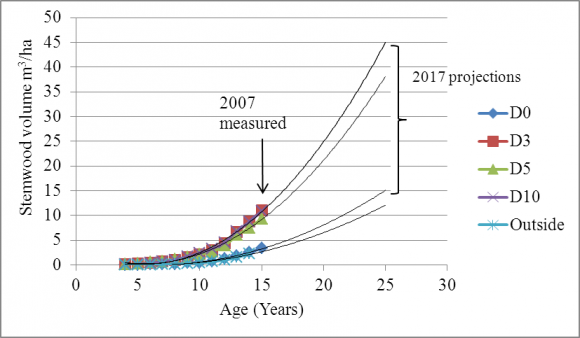 Spruce stemwood volume and projection (De-Ink sludge)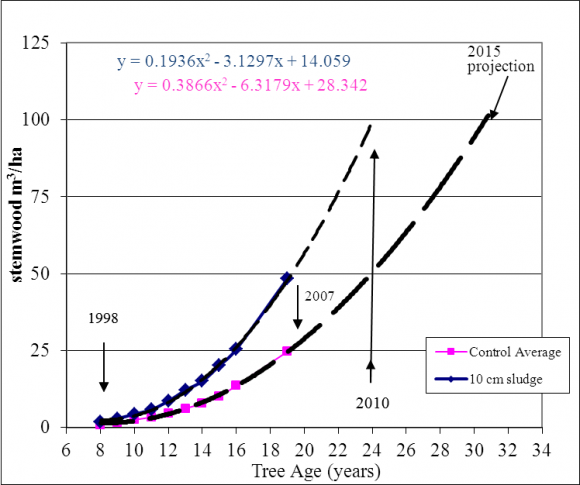 Pine stemwood volume and projection